Taupo Ski Club 50th Aniversary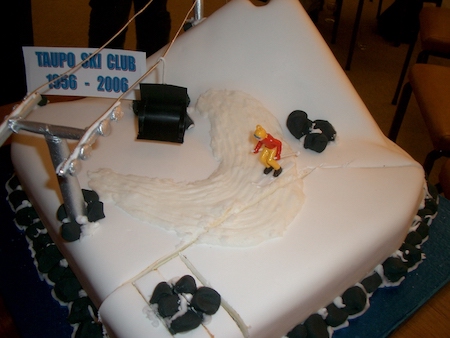 Taupo Ski Clubs 50th celebration at Taupo Museum, 3 June 2006, attended by approximately 75 people.
Speech given by Harry Keys (Club President)
Welcome by Harry Keys.
"We are celebrating Taupo Ski Club's birthday and a time 50 yrs ago when our founders established the club.
This is an opportunity to pay tribute to founding members of the club and other major contributors, and acknowledge their descendent's who are still contributing to the club.
The first founders included Larry and Jean Frost, Trevor Wildbore, Lenore Staines, Eric Harden, Jean Prangley, Tangi Martin, Gillies Smith and Noel Kerr (of Noel's hole fame). Other early notable contributors included John and Jan Robinson, Ray Zander, Gordon and Merle Dawson, Owen and Val Roberts, Red and Dell Fairhall, Ron and Muriel Clair, Bob MacDonnell, Doug Wacker and Louise Stevens.
Tonight we especially welcome Jean Frost, Tangi Martin, Bob MacDonnell, and our friend Austie Hayward former President of Ruapehu Ski Club who unveiled the lodge plaque to Larry Frost.
My name is Harry Keys, and I have a keen interest in Ruapehu, TNP, skiing and climbing. My first trips to TNP were in the 1960s with my parents and siblings. My first climb of a Ruapehu peak was Paretetaitonga in 1969 and I've been more or less involved ever since. Our family joined the club in 1999. I love staying in lodge. This is an opportunity to thank those who built lodge, maintained it, rebuilt it, and added to it. Tonight I found out that the 2 bunkrooms on the right of the entrance passage are part of the original hut much of which was burnt down in the late 1950s. I had thought the whole hut had burnt down.
As for this event I'd like to thank Ali Mazey and Helen Spencer who have advertised and organised food, Karen Williams and the Museum for other support and the venue, and Jan Robinson for the display.
Tonight the club has been presented with two new trophies for Junior Boys and Girls snowboarding. Thanks to the Beange and Murray families. Also we congratulate Rebecca Sinclair for her achievements winning the under 14 age class at the World Youth snowboard champs in Italy, and note the warm thanks to Taupo Ski Club in the article in Curl magazine. Also, thanks to Anne Battersby, we have an opportunity to purchase from a range of midlayer clothing carrying the club logo with the dates 1956-2006, with profits going to the club. I don't know everyone here but I hope you enjoy yourselves"
Tangi Martin the Patron of TSC then spoke. He was followed by Bob MacDonnell. [Others who spoke on an impromptu basis included Gail Cawkill (Bob's daughter), Jan Robinson (hut mum of first kid's ski week), Austie Hayward, Jean Frost, Rhonda Crowley, Gordon Dawson, Mark Iles, Grant Lister, Ray Zander]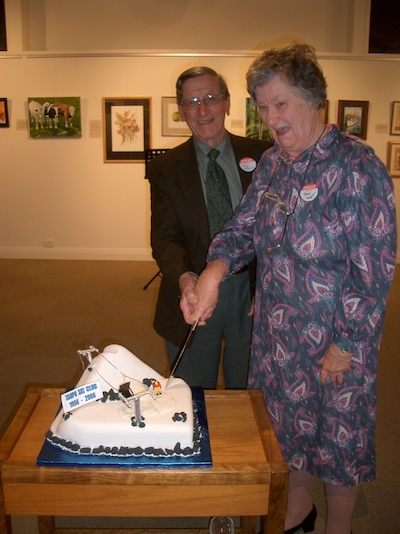 Programme
4-4:30pm People arriving
4:30pm Refreshments, "free" bar opened
5:30pm Start "formal proceedings"
MC – Harry Keys – welcome Tangi Martin Bob MacDonnell and others
6:30pm Approx cake cutting Tangi and Jean Frost
6:30pm Refreshments
8pm Close